Archive for the 'church cartoons' Category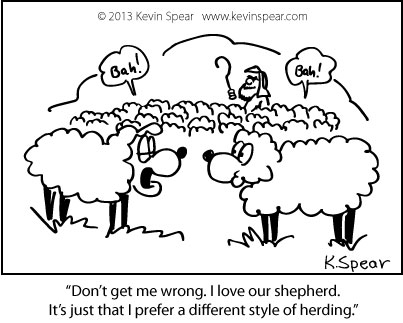 Cartoon of Sheep are in a pasture. One says to another, "Don't get me wrong! I love our shepherd. It's just that I prefer a different style of herding."
Leadership can be tough when nobody wants to be a follower. It's even harder when everyone in the group is about aggressive as a sheep, yet refuse to be led. I've seen a few pastors face this situation. You have to beware of sheep with fangs!
I originally sold this to Leadership Journal.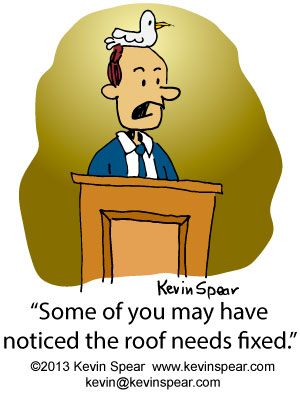 Cartoon of a pastor with a bird on his head. The pastor says, "Some of you may have noticed the roof needs fixed."
I drew this for the February, 2013, Church of God e-newsletter.
Cartoon of a guy with a guitar while a horrified pastor looks on. The guy says, "Everybody now! Sing 'A Mighty Fortress Is our God!' and bring it on home!"
I drew this cartoon for "The Lutheran" Magazine many years ago. MLK day reminded me there was more than one Luther in history